Continental TrueContact Tour
The Continental TrueContact Tour is a Premium Touring All Season tire designed to be fitted to Passenger Cars.
Tire Reviews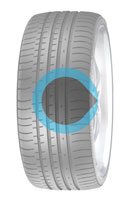 Sorry, we don't currently have any magazine tire tests for the Continental TrueContact Tour
Sorry, we don't currently have any label data for the Continental TrueContact Tour
Sorry, we don't currently have any questions and answers for the Continental TrueContact Tour. Why not submit a question to our tire experts using the form below!
Ask a question
We will never publish or share your email address
Have you driven on the Continental TrueContact Tour tire?
Have YOU got experience with the Continental TrueContact Tour? Help millions of other tire buyers
Latest Continental TrueContact Tour Reviews
Given
87%
while driving a
Toyota Prius
(185/65 R15) on
mostly town
for 15
easy going
miles
Fantastic tire in its category. We had already tried all the other major tire brands/models in this category because we needed all-season tires that could work well in the rains of summer through the snow of winter and still give good fuel economy. This was the only model of tore that we had not tried so I though to give it a chance and I was shocked to find that its superior to the other major brands in this category even though its the lowest cost Continental in this category. The rain and snow grip is clearly superior, amazingly so, I was shocked to find that I could climb the steep hill that we live on with ease even with several inches of fresh snow on the ground. We were able to document several cross country trips of several thousand miles each on the tires and found that they delivered at least 3 MPG more than all the other tires we have tested, so we are extremely pleased with the amazing performance of this low cost model. PS it is rated for 80,000 miles so it also offers very long life as well.
Given
93%
while driving a
Toyota Prius
(225/45 R17) on
a combination of roads
for 10
average
miles
An amazing all season tire, so good that we now have them on all our cars. We fid the wet weather performance inspires confidence, we have tried many all season tires over many years in our small car collection and this is the best all around al season tire, by a significant amount. Our records clearly show better fuel economy than all the other tires we have ever used which we found quite surprising. Performance in the snow is surprisingly good for an all season tire and is clearly the best we have ever driven, by far. We do not get deep snow here but then again we would not attempt to drive in deep snow, we would simply wait fo the roads to be plowed clear but with a reasonable about of snow these tires grip so well that we don't even notice the snow. Overall this is a comfortable, quiet, dependable, confidence inspiring tire that delivers the best fuel economy we have ever recorded and comes with a phenomenal long treadwear warranty that helps us keep out costs low.