Exclusive: The Michelin Pilot Sport S 5 is here!
In this article I'll be sharing exclusive information about the brand new Michelin Pilot Sport S 5!
If you're reading this article I'm 100% sure you will already know all about the Michelin Pilot Sport 4 S, which is still, after 6 years, one of the best ultra high performance tires you can buy today.
The PS4S has such a HUGE amount of popularity online, I get asked almost daily when the replacement for this tire will be launched, and I'm really happy to stay, NOW is that TIME! Well, sort of… The new tire we're talking about today is the Michelin Pilot Sport S 5, and yes there's subtle change in the naming scheme, more on that in a bit.
Naturally the new Pilot Sport S 5 builds upon the total brilliance of the Pilot Sport 4 S, which won more tests than any other UHP tire ever, with the new tire bringing some significant upgrades.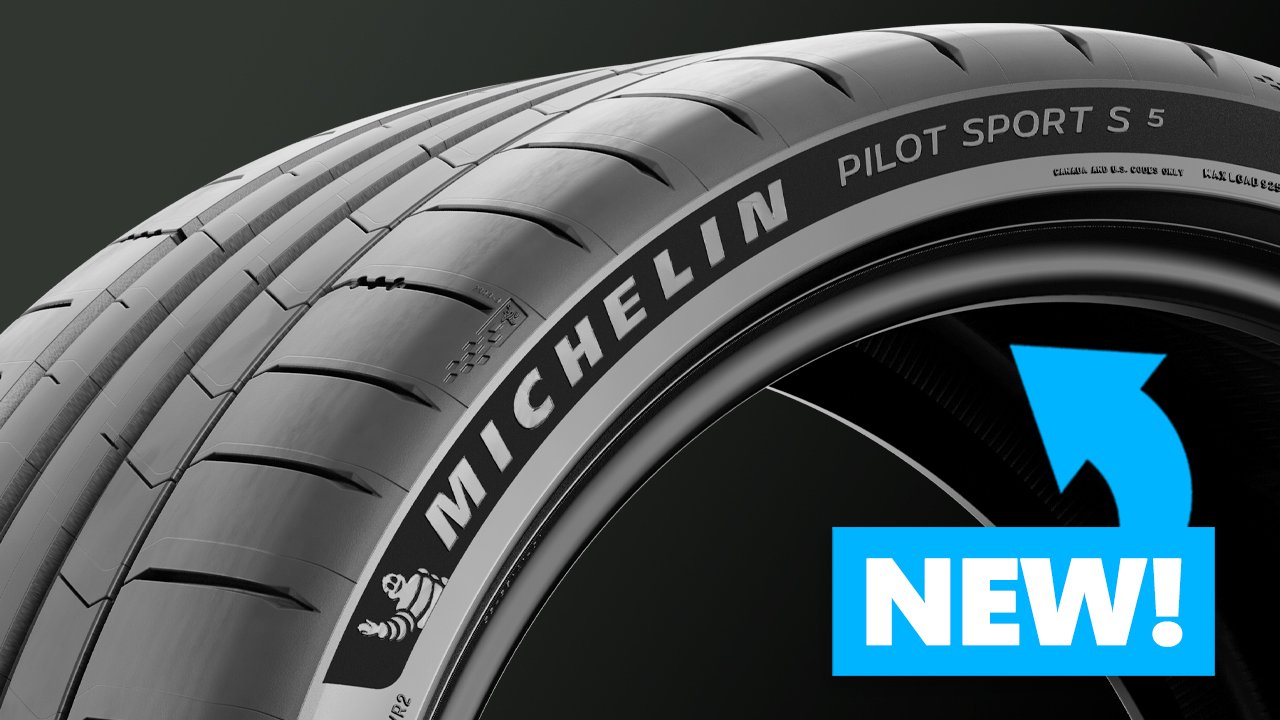 New Technology
The new technologies in the PSS5 include, but are not limited to:
A new wavy summit, which is the precisely controlled undulation of the steel belts under the tread blocks to stiffen the tread pattern for precise steering and handling. If you've seen my video about the OE * marked Pilot Sport 4 S you'll know this is a huge deal and I REALLY liked that tire. 
Michelin have also further developed the dual Sport tread design - this is a further step forward of how all asymmetric UHP tires have been going, ie having a large portion of the outside of the tire dedicated to rigid blocks for better lateral dry grip and steering response, with the inside of the tire having more large longitudinal grooves that flush away water for enhanced wet road traction.
The new Pilot Sport 5 S also has a new racing derived tread compound on the outside to maximize dry grip on road or track, think of this is more a cup 2 compound for the outer shoulder like the bmw * marked PS4S I loved so much, and a new cutting edge rubber compound on the inside engineered for the best possible wet grip.
Finally the last big change is a new bead design architecture to further improve steering response and handling.
While all this is very very exciting, perhaps the best news of all for most of you is that the new PSS5 will have the next generation of premium touch sidewall design for an exceptionally high contrast and deep black aspect on the sidewall. Basically it should look as good as it performs. Which in theory, will be outstanding.

Naturally the tire is evolving with the latest market demands too, meaning certain sizes will be available with acoustic foam for lower internal noise, connected sensors, built- in RFID and of course high load for the larger and more powerful hybrid and electric vehicles. Infact, Michelin used the example of the Ferrari F8 Tributo and its replacement, the 296 GTB. The new car might only have a V6 compared to the F8s V8, but it also has serious electric fill so it has 50% more torque, another 105bhp taking it up to a quite frankly insane 805bhp, and weighs nearly 100kgs more. The Michelin Pilot Sport S 5 is designed to handle this with ease.
The Name
As for the name. Yes, Michelin has changed the naming convention again. The original directional tire was the Michelin Pilot Sport, and it was actually my first ever tire, and one of the main reasons I'm so into tires today.
We then moved to the Pilot Sport 2, which was a fantastic sports tire, but for the following generation the Pilot Sport 3 pivoted towards being a more comfort bias, and the real successor was the Michelin Pilot SuperSport. 
Next up naturally was the Pilot SuperSport 2 actually nope that would make too much sense, Michelin actually named it the Pilot Sport 4S, which is the tire that we've all known and loved for the past 6 years.
So, why not the Pilot Sport 5 S. Well, apart from the fact Michelin seem to like to keep us on our toes, Michelins long term vision is to align all the tires under four pillars. 1, brand, which is Michelin, 2 Core product family name, in this case Pilot Sport, 3, qualifier performance subgroup if it exists, in this case S, and 4 generation, in this case 5.

This tire is the more sporty brother of the Pilot Sport 5, see how it works?
Availability
Hyped for the new tire right? More grip, better handling, even sexier sidewall, new name. What's not to like? I know you'll be dying to know when you can buy it for your car. Well, as of right now, you probably can't, unless you're one of a few OE tires it's launching this month.
Initially this tire is OE only, with I believe Aston Martin being the first manufacturer to launch cars with the PSS5 fitted, followed by the likes of AMG, Ferrari, Land Rover, Lexus and Porsche.
So, why is it oe only? The official statement follows:
"For the short term, our core replacement market offer will remain MICHELIN Pilot Sport 4S, with both non-marked tires and marked tires, while MICHELIN Pilot Sport S 5 will become our new offer to address new OE programs.
At mid-term, we plan to replace MICHELIN Pilot Sport 4 S with a new product. The technical team is already working on new technologies to improve the overall performance of our actual tireline."
Michelin also reminded me that the Pilot Sport 4 S might be getting on in years, but it is STILL winning tests and one of the best reviewed tires on the market, so while we're all excited for a shiny new product to try, no one more than me, they're saying the Michelin offering in this segment is still amongst the best. And I really can't argue with them.
I've been told no timeline for the replacement market 4 S, nor have I officially been told what it will be called, however with this tire appearing in market, it's now a lot closer now than it was before. 
2023 is going to be an exciting year for new tires.
Further Tire Information