The Metzeler Tourance Next is a Premium Touring Summer tire designed to be fitted to Motorcycles.
This tire has been replaced by the Metzeler Tourance Next 2.
Tire Reviews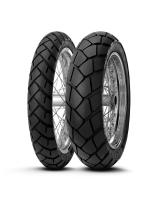 Sorry, we don't currently have any magazine tire tests for the Metzeler Tourance Next
Sorry, we don't currently have any label data for the Metzeler Tourance Next
Questions and Answers for the Metzeler Tourance Next
2018-12-29 - What is the best tire pressure for Metzeler Tourance Next Street and Off road?
The tire pressure for the Metzeler Tourance Next is vehicle and load specific. The correct tire pressure for your vehicle can usually be found on a sticker in the door shut of the driver's door, or in the manufacturer's handbook.
---
Ask a question
We will never publish or share your email address
Top 3 Metzeler Tourance Next Reviews
Given
96%
while driving a
BMW na
(225/45 R17) on
a combination of roads
for 5,000
spirited
miles
Best tires by far on my BMW R1200GSA. 5k miles from a rear is better than the 2500 miles i was getting from the Michelin Road Pilot 3
Once again from the States I write about the Metzeler Tourace NEXT. I've used two sets of these tires for 12,000 miles, and while they have many good points, they also come with the "Metzeler Curse" in that they don't give you good mileage. My first impressions are they ride very smoothly and are quiet, the handle very well in wet, dry, and off road mud and gravel conditions. My application is the 2014 BMW R1200RT-LC, and loaded with a top case. If my stuff doesn't fit in one of my cases, it don't go. I've learned that the best starting point in regarding to tire pressure for most dual sport tires is 32 PSI front and 26 PSI rear, and after 2-3,00 miles I can get an idea if the tire pressure needs adjusting either up or down, with the NEXT tire at 26 PSI in the rear is perfect, but the front needed to be lowered to 26 PSI to optimize tread life. If you ride harder, or load heavyer than me then don't expect to get the same 6,000 miles I did. to optimize tire life at these pressures the tread was wore down to the tread wear bars on the centre, and shoulders, and I've never had a tire wear out this fast before. Other Dual Sport tires at 6,000 miles have enough tread left to go another 2,000 miles before replacement.
Given
36%
while driving a
Triumph explorer
(120/70 R19) on
mostly country roads
for 3,000
average
miles
the 120/70/19 next on my new triumph explorer basically disintegrated after 3000k.neither triumph or metzler australia were willing to take any responibility. very poor tire verging on dangerous. i got 20000 out of michelin road 4 trail,s
Have you driven on the Metzeler Tourance Next tire?
Have YOU got experience with the Metzeler Tourance Next? Help millions of other tire buyers
Latest Metzeler Tourance Next Reviews