Vredestein Ultrac Vorti R
The Vredestein Ultrac Vorti R is a Extreme Performance Summer tire designed to be fitted to Passenger Cars.
This tire has been replaced by the Vredestein Ultrac Vorti R Plus.
Tire Reviews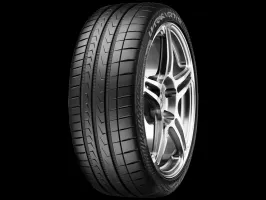 2021 Tire Tests

2019 Tire Tests

2018 Tire Tests

2016 Tire Tests
| Size | Fuel | Wet | Noise | Weight |
| --- | --- | --- | --- | --- |
| 305/30 R19 102Y XL | E | B | 71 | 14.25kgs |
| 245/30 R20 90Y XL | E | B | 70 | 11.54kgs |
| 305/30 R20 103Y XL | C | B | 71 | 15.32kgs |
| 305/25 R21 98Y XL | C | B | 71 | 14.81kgs |
| 245/30 R21 91Y XL | E | B | 70 | 12.13kgs |
| 265/30 R21 96Y XL | E | B | 70 | 13.19kgs |
Sorry, we don't currently have any questions and answers for the Vredestein Ultrac Vorti R. Why not submit a question to our tire experts using the form below!
Ask a question
We will never publish or share your email address
Top 3 Vredestein Ultrac Vorti R Reviews
Given
90%
while driving a
Honda Civic Type R
(235/35 R19 V) on
a combination of roads
for 1,000
spirited
miles
I've been looking for a decent price quality ultra performance tire for quite some time now.
Initally the choice was between the Micheling PS4S, or the Yokohama Advan Neova AD08R.
Then I read the articles about the normal Ultrac Vorti, which were very positive.

Since the Vorti R is rather new, and not a lot of reviews are available yet, I decided to give it a try as a guinea pig.
After all one tire is 50 pounds cheaper than the Michelin so its worth the try.

Immediately I could feel the tires reacted lighter and more direct than the OEM Continental CS6's.
Comfort is a lot better, especially on the speed bumps.
Dry grip was not that great in the beginning, but now after 200 miles, they are really excellent, as good as the CS6.
The big difference is in the cornering, you have a lot more feeling with the tire and you get more confidence taking the corners at higher speeds than with my CS6's.
Also the car reacts a bit quicker, due to the tire weighing a bit less than others.

So far i'm excited of this new tire of Vredestein, I would advice everybody to try them.
Next I will try the Michelin PS4S's so I can compare them with my Vredesteins, but they would have to be a lot in wear to justify the much higher price.

Alfa Romeo
(235/35 R19 W) on
a combination of roads
for 250
spirited
miles
Having heard very good things about Vredestein tires, I thought I'd give these a try. Being about £120 a corner delivered, they are far cheaper than the Michelin PS4S, which they are on a par with in a few dry performance tests.

After a few hundred miles on the front axle of my 285bhp Alfa Romeo Giulietta QV, I can safely say they grip like the car is on rails and the feedback is excellent. Wet grip is also very good. The tires are fairly quiet and the sidewalls very stiff meaning feedback is good but comfort on motorways is not affected. They have much more feedback than the already decent Uniroyal RS3's I had on before thanks to being a bit stiffer. For about £120 for a 19" tire, these are definitely worth the money, and I will probably get them for the back wheels as well when the time comes.

They also come with rim protection and are quite a good looking tire with the carbon fibre look sidewalls.
Given
87%
while driving a
Vauxhall Astra VXR
(235/35 R19) on
a combination of roads
for 12,000
spirited
miles
Great tire I have always used the vorti so when the r came out I had to stick a set on. Great road feedback and superb grip in the dry and wet grip more than enough to challenge compettiters. Even on my front wheel drive astra vxr with 300bhp they grip when pulling away hard and cornering. Due another set now seen about 12000miles out of a set of fronts which I think is great.
Love these tires so much I have put them on my other car too. You won't be disappointed.
Have you driven on the Vredestein Ultrac Vorti R tire?
Have YOU got experience with the Vredestein Ultrac Vorti R? Help millions of other tire buyers
Latest Vredestein Ultrac Vorti R Reviews
Given
84%
while driving a
SEAT Leon Cupra 290
(235/35 R19) on
mostly country roads
for 11,000
spirited
miles
Great performing tire. Losing grip towards end of life and spinning up more now on take off as they have hit 2.5mm but overall great tire Easy seen 11000 miles of mixed driving with some hard miles in there Replacing with another set which says it all really. Rears still have approx 4.5mm on them and fronts about 2.5mm. Continental sport contact 6 lasted about 8000 miles
I bought a Vectra B GSi 2.5 V6 (Facelift) with these already fitted in about 2005, I had not previously heard of them but now I won't fit any other tire brand to my cars. I have recommended them to anyone I know that asks me (I'm a mechanic) and as I look after all the vehicles in my family, I obviously only fit these as they are ready for changing. The handling at the limit score I gave is at MY limit, I always remove my tires at 3mm in winter (all 4) and 2.5mm in summer, I never run tires to the markers as this is the MINIMUM for safety and I my own vehicles are always high powered. I have never once felt like I was in trouble with these tires fitted and as for handling, my own opinion is why risk a change when these have performed at an outstanding level. This may just be how I am personally, but I check my tire pressures sometimes 4 times in a week depending on how many miles I have been doing, I check them after EVERY long motorway journey (say over 100 miles or more) and keep them supple with conditioners after washing (the outlay is a no brainer to keep the outer walls from drying out in direct sun if nothing else) I have had a Vectra VXR now for over 10 years, I changed the Conti's to 'VRed's' as soon as they were ready and apart from a friend offering me a set of two Conti Sport Contacts for a price I wasn't able to refuse, I have only had Vred's on. I do all kinds of mileage, motorway as well as city and just occasionally when there is no risk to any other road user I have a little 'play' and put her through her paces ... these tires IMO are as crucial to the vehicle (and my peace of mind) as the suspension and steering ... I get about a bit with mixed mileage, the last set changed - rear are still on at 4.5mm and 30,000 miles - front JUST changed, I removed the Reds after 23,500 miles at 3mm and put aforementioned Conti's on, I removed those at 15,500 miles with 3mm left ... Overall opinion ... The most UNDERRATED tire on the market ... These are Very High Performance tires masquerading as a better than mid range tire ... but Shhh .. or the price will go up !!