Pirelli Cinturato All Season SF2 - Launched
Pirelli have announced their latest generation all season tire, the Pirelli Cinturato All Season SF2 (SnowFlake 2.)
As a result of climate change, where winters are getting less extreme in many parts of Europe, the interest in all season tires is growing year by year.
Historically tire sales in most of mainland Europe have been split 60% summer and 40% winter tires, but the market for all seasons is growing rapidly, with just 3% in 2014, 14% in 2020, and a predicted 20% by 2025. Naturally these numbers are for areas of Europe with milder winters, if you live in an alpine area a dedicated summer and winter tires are still the best option.
The below graph shows the current sales percentage of all season tires, with growth in all regions.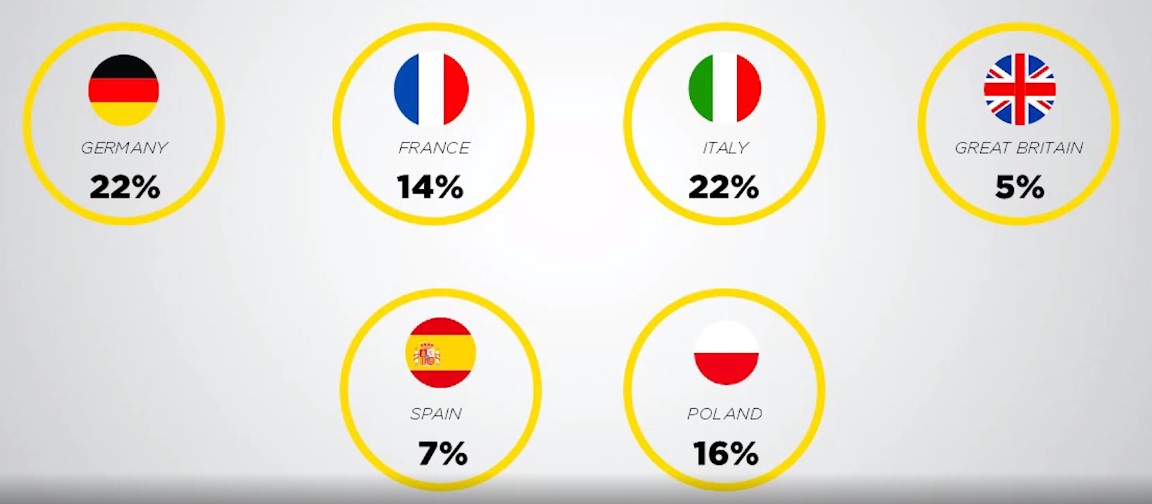 The type of customer shopping for all season tires is usually a premium customer, and mainly own premium cars. The priority of these customers is peace of mind, which means compliance with winter tire legislation, safety in all seasons, good tire life, and avoidance of stress due to annual tire changes. These categories are where all season tires excel.
Addressing the shortcomings of the outgoing Pirelli Cinturato All Season, the new Cinturato All Season SF2 comes with a number of impressive improvements.
All sizes of the new tire are marked with the 3 peak mountain snowflake symbol, which denotes it as a legal winter tire in areas where they are a legal requirement and every size has a strong improvement in wet grip, with the eu wet grip score as B across 100% of the range.
The Testing

Confident in their new product, Pirelli instructed two independent testing companies grade the new tire.
The first, DEKRA, graded the tire number 1 in safety and number 1 in sustainability when compared directly to the Michelin CrossClimate+, Goodyear Vector 4 Seasons Gen 3, and Bridgestone WeatherControl A005 EVO, with the Pirelli having the best snow handling, lowest noise, lowest rolling resistance, best dry braking and best combined braking scores of the average of its competitors.
A second independent test body, TUV, awarded the new Cinturato All Season SF2 the prestigious performance mark. This certifies the new tire compares favorably with other premium tires, which for all season tires means having the best overall combination of wet braking, straight aquaplaning, wet handling, snow acceleration, snow braking, noise, rolling resistance and dry braking tests.
New tire technology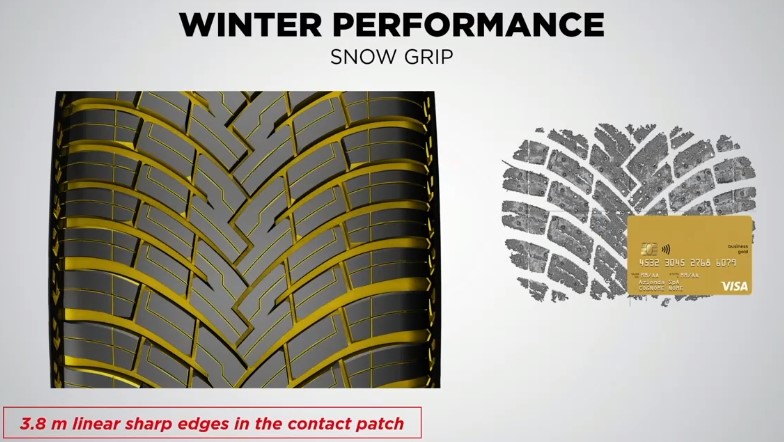 How does the new tire achieve all of this? Pirelli claims to be one of the highest investors in R&D per tire sold, which has led to several new technologies for the All Season SF2.
The tread pattern has adaptive technology with liniar sipes to work in both summer and winter conditions. In each contact patch, which is the approximate size of 4 credit cars, ther are 3.8 meters of linear edges to help the tire cut through snow.
The new sipes also have 3d locking technology, and while this isn't a new technology, it's very effective at increasing block stiffness in the dry and wet, improving grip and dynamic behavior.
On the compound side there is a new double peak polymer, which looks to be very useful for an all season tire as it allows the rubber to have two different operating temperature peaks, which gives the tire a broader working range of temperatures.
Other impressive numbers are:
50% more mileage over the previous tire.
-2db lower nose compared to previous tire and -0.9db vs average of best competitors.
10% better aquaplaning over the previous tire. At 80kph, which is 14.2 litres a second, for each tire.
The Pirelli Cinturato All Season SF2 will cover 95% of the EU market by having 65 sizes from 15 inches to 20 inches, and in various sizes will be available in runflat, seal inside, Pirelli noise cancelling system, and the elect mark for electric vehicles.
I'm also very excited to announce that Tire Reviews will be testing this in the 2021 Tire Reviews all season tire test, let's hope it lives up to the hype! Stay tuned for the full results later this year!
Further Tire Information