2021 Track Day 200TW Tire Test
For the 2021 Tire Reviews 200 treadwear Track Tire Test we have selected eight of the the most popular 200tw track focused performance tires and have access to Michelin's Laurens proving ground in South Carolina, which has a very fast, high grip, dry handling test track.
You can either watch the full test video for all the glorious shots of the beautiful E36 M3 test car, or scroll down to read the full results.
200TW Track Tire Test
Test Summary
Best Dry Handling:
BFGoodrich G Force Rival S 1.5
We're going to be testing each tire to find out which is the fastest over a single lap, which tire has the best heat management on track over multiple laps, which tire gives you the best steering response, and which gives you the most confidence to drive at the limit.
To keep things as fair as possible, we have three sets of new control tires so we can run a control tire at the beginning, the same tire again after set four, and another set at the end to calculate for driver and track evolution. All tires will be started at exactly the same 30 psi cold.
The test vehicle is a beautiful E36 BMW M3 Lightweight, which thanks to a lightweight chassis, a normally aspirated engine and hydraulic power steering, should be a really wonderful test car and relatively representative of what people use on track and at autocross events.
There are sadly a few key tires missing. There's no bridgestone RE71R because it's been discontinued in North America and Bridgestone don't plan to replace it, there's no toyo because the R888R is 100tw and the R1R is extremely old, and we couldn't get the Nexen N Fera SUR4 or the new Continental ExtremeContact Force in time for this test.
Dry
The lap times below are taking from the test video, for an explanation of the data please watch from 6:37.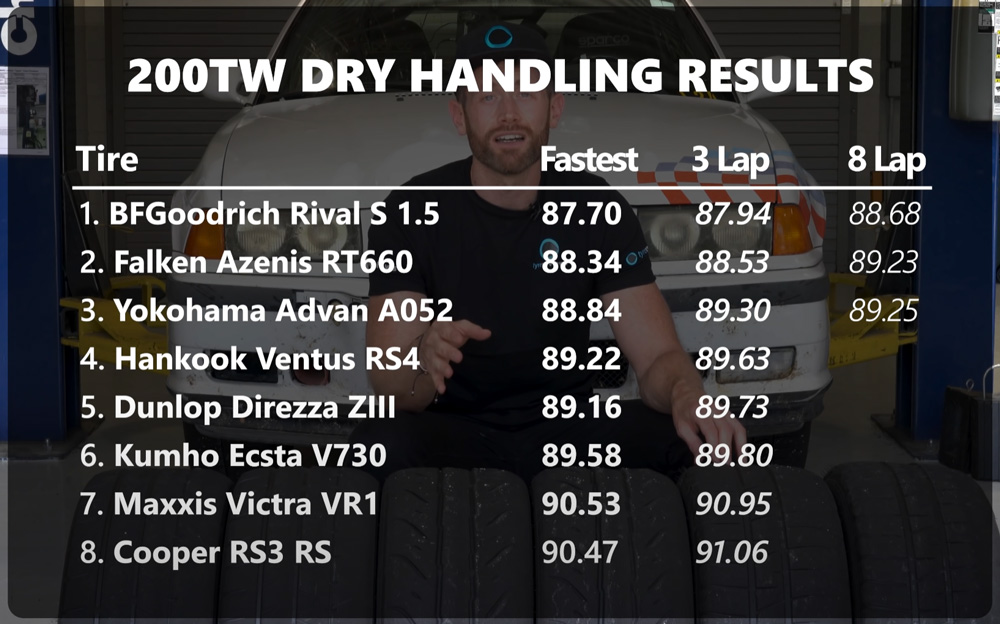 Results
225/45 R17
Production: 1319
UTQG: 200 AA A
Tread: 5.7mm

| Test | # | Difference | % |
| --- | --- | --- | --- |
| Dry Handling | 1st | | 100% |

Fastest tire on test over a single lap, 3 lap average and a heat cycled 8 lap average. Excellent steering reaction, good feedback, high levels of grip, it felt like it enjoyed being driven quickly.

Slight lack of feedback at large steering angles compared to the Falken, some understeer at the end of the 8 lap run as the front left overheated.

The BFGoodrich Rival S 1.5 is a really enjoyable to drive that likes to be driven fast. It needs a little heat to be at its best, but once the tire is warm, it's extremely fast, controllable and stable.


Read Reviews

225/45 R17
Production: 4020
UTQG: 200 A A
Tread: 5.8mm

| Test | # | Difference | % |
| --- | --- | --- | --- |
| Dry Handling | 2nd | +0.59 s | 99.33% |

Excellent heat management, low wear, precise and consistent steering, extremely strong on the brakes, very enjoyable tire to drive, very stable once heat cycled.

Not quite as fast as the BFGoodrich G Force Rival S 1.5

The Falken RS660 is a very well priced, extremely capable tire with good grip, direct and stable handling and very impressive heat management.


Read Reviews

225/45 R17
Production: 0921
UTQG: 200 A A
Tread: 5.3mm

| Test | # | Difference | % |
| --- | --- | --- | --- |
| Dry Handling | 3rd | +1.36 s | 98.48% |

Friendly tire to drive, slight understeer balance and it felt softer on the sidewall / slower to react than the Falken and BFGoodrich, but it was very easy to drive quickly. Extremely fast warm up, very good for autocross style events.

Peaky first lap grip with rapid drop off in time, high levels of wear.

The Yokohama Advan A052 has a quick warm up and predictable friendly handling which makes it an excellent choice for the less confident driver, or those doing sprint / autocross style events.


Read Reviews Buy from £252.99

225/45 R17
Production: 0421
UTQG: 200 AA A
Tread: 6.9mm

| Test | # | Difference | % |
| --- | --- | --- | --- |
| Dry Handling | 4th | +1.69 s | 98.11% |

Very good heat management with very low wear, good steering response, rounded grip circles, enjoyable tire to drive.

Not the fastest single lap performance on test.

The Hankook Ventus RS4 was an enjoyable tire to drive with good steering response and progressive handling, and while it wasn't the fastest tire over a single lap, it's heat management and predicted wear were impressive. With nearly 7mm starting tread depth, it would be an excellent option for endurance racing.


Read Reviews

225/45 R17
Production: 5220
UTQG: 200 A A
Tread: 6.5mm

| Test | # | Difference | % |
| --- | --- | --- | --- |
| Dry Handling | 5th | +1.79 s | 98.01% |

Quick first lap, good steering response, rounded grip circles, enjoyable tire to drive.

Peaky first lap grip with rapid drop off in time.


Read Reviews

225/45 R17
Production: 0321
UTQG: 200 AA A
Tread: 6.3mm

| Test | # | Difference | % |
| --- | --- | --- | --- |
| Dry Handling | 6th | +1.86 s | 97.93% |

Good heat management, it felt like it likes being hot. Rounded grip circle.

Not the best steering response or feedback led to inconsistent lap times.


Read Reviews

225/45 R17
Production: 2219
UTQG: 200 AA A
Tread: 6.8mm

| Test | # | Difference | % |
| --- | --- | --- | --- |
| Dry Handling | 7th | +3.01 s | 96.69% |

Better heat management than the Cooper.

Higher levels of understeer and noticeable less grip than the other tires on test.


Read Reviews

225/45 R17
Production: 4818
UTQG: 200 AA A
Tread: 5.4mm

| Test | # | Difference | % |
| --- | --- | --- | --- |
| Dry Handling | 8th | +3.12 s | 96.57% |

The only 220tw tire of the group, so at a natural disadvantage.

Peaky first lap, higher levels of understeer and noticeable less grip than the other tires on test.


Read Reviews